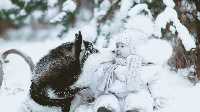 FEBIO s.r.o. (FEničův BIOgraf) Film and Television Company; founded in December 1991 the company began activity in March 1992. As is evident from the name, the founder, owner and manager of this private studio is the film director FERO F E N I Č.
Czech Television first presented a twenty-minute documentary program called "EYE, from here – to there" by Fenič on OK3 - the third television channel at that time - on 4/4/1992 (the K.F. a.s. company magazine "Kanafas"). This bi-monthly program then became the most watched documentary program on Czech Television.
On 1 January 1993 it started to break viewing records with another documentary series: "GEN" (Gallery of the Nation's Elite), which presented "One Hundred Czechs Today" in brief portraits.
In January 1995 another two-year series, "GENUS", was linked to this, giving us an insight into "99 Czech lives".
In April 1996, after a period of one year, the private station Premiéra TV showed a similar series titled "V.I.P. – INFLUENTIAL PEOPLE" showing portraits (a total of 32) of important Czech businessmen, politicians and other representatives of public and economic life.
Exceptional popularity was garnered by the satirical show "CZECH SODA", which was broadcast on Czech Television from June 1993 until the end of 1997 as an occasional program (a total of 17 episodes, of which two were "New Year's Eve" montages and one was a feature-length film).
From January 1997 until the end of 2000, Czech Television broadcast a new series of our production on ČT 1 every week: "HOW THEY LIVE... " (169 episodes).
During the course of 1998 a monthly program appeared on ČT 1 concerning Czech-German relations -"WINDOW ON THE NEIGHBOURS", which in 1999 was followed up by an occasional program with Czechoslovak topics: "WINDOW ON SLOVAKIA".
In January 1999 another project was shown on Czech Television – the travel magazine "TRAVELMANIA", which was discontinued after 26 episodes but returned to prime time viewing on ČT 1 in August of 2000. This weekly show is one of the most watched programs on Czech Television (it found itself in the top ten programs on ČT and in a survey of television viewers called "TÝTÝ" concerning favourite programs; it was the only documentary program and even ranked no 5. The remaining 9 programs in the top ten were only entertainment shows). A total of 182 episodes were broadcast on Czech Television. Starting in September 2004 this program will be broadcast by NOVA Television under the name "NOVA TRAVELMANIA".
From September 1999 until the beginning of 2000, Czech Television showed another weekly documentary: "CONFESSION". From September to December 2003 this series then returned to the screen in an innovative form - nineteen episodes narrated by Lucie Bílá.
The third part of the popular and often repeated portrait series "GEN – Gallery of the Nation's Elite", with a "National Selection", was shown by Czech Television every week from January 2001 until December 2002. Thus the total number of portraits of important Czechs reached 281.
In the first quarter of 2004, PRIMA Television broadcast a documentary series about entrepreneurs, "THE COURAGEOUS 12". A second series with twelve portraits will follow in 2005.
A ten-year series by important artists was then created about Prague (around 1 - 3 documentary films per year) - "21 VIEWS OF PRAGUE IN THE 21st CENTURY".
Since 2003 the Febiofest international film and television festival has been accompanied by a festival journal, the ten-minute magazine "ECHO FEBIOFESTU" (10 episodes every year).
In addition to these periodical programs, the studios also produce other independent short films.
Febio has also created several longer documentaries and a feature-length film version of the "CZECH SODA" program, which had the highest attendance figures for Czech films in 1999!
Many of our titles have been or are being broadcast by foreign television stations and receive awards at many film and television festivals both in the Czech Republic and in other European countries.
So far, FEBIO has produced 1,000 original films (not just in terms of the television series mentioned above!), in which more than 140 Czech, Slovak, Serbian, Croatian, Norwegian and Kazakh directors have participated as well as dozens of the best Czech, Slovak, Serbian, Croatian and Bulgarian cameramen and editors. At the moment, FEBIO is concentrating the greatest and highest quality authorship and realisation potential in the area of creating documentaries in the Czech Republic and only the best Czech and Slovak names cooperate with them.
Thanks to Febio, in December 1993 the "F E B I O F E S T" international film, television and video festival was created in Prague, which in following years gradually expanded to include all of the larger cities in the Czech and Slovak Republics and is now unequalled in Europe. Every year approximately 450 films are presented here from more than 50 countries from all continents – a fact which has made this festival the largest and most-visited film event in the Czech and Slovak Republics (echoes of which are always felt here). Febiofest begins in Prague every year and ends approximately 6-7 weeks later in Slovakia.
FEBIO is unparalleled in the history of Czech and Czechoslovakian audiovisual creation: it is the first private studio with such extensive original production!
More detailed information about individual series, independent works, all shows filmed, creative cooperation with Febio (including information about the studio management – director and producer FERO FENIČ), services provided and Febiofest can be found by clicking on the links with the appropriate titles.